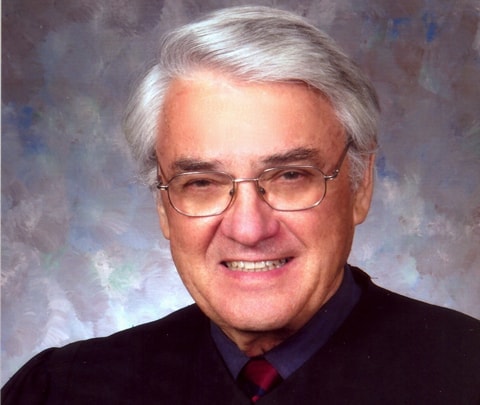 Promising signs for the pro-equality side are coming in from reporters covering the 5th Circuit oral arguments in New Orleans today. 
As our legal editor Ari Ezra Waldman wrote earlier, the three judge panel is comprised of Obama appointee Judge James Graves, right-wing Reagan appointee Judge Jerry Smith, and wild card Reagan appointee Judge Patrick Higgenbotham (pictured above).
Early reports now point to Higgenbotham lining up on our side of the arguments in the Louisiana, Mississippi, and Texas cases.
MSNBC's Emma Margolin:
Judge Higginbotham, the swing, seemed not only skeptical of Louisiana's defense of same-sex marriage ban, but amused by it. #5thCircuit

— Emma Margolin (@EMargoNY) January 9, 2015
Buzzfeed's Chris Geidner:
Breaking: MS and TX arguments remain, but after LA args, the 5th Circuit appears poised to strike down state same-sex marriages bans.

— Chris Geidner (@chrisgeidner) January 9, 2015
Same outcome likely for MS, where @kaplanrobbie argued for plaintiff same-sex couples. TX args remain.

— Chris Geidner (@chrisgeidner) January 9, 2015
TX was no different. If anything, Judge Higginbotham was getting a bit frustrated with Judge Smith's constant focus on Baker.

— Chris Geidner (@chrisgeidner) January 9, 2015
Washington Blade's Chris Johnson:
My prediction: #5thCircuit will strike down marriage bans 2-1 based on Higginbotham's skepticism of state of Louisiana's arguments.

— Chris Johnson (@chrisjohnson82) January 9, 2015
Higginbotham said sexuality immutable, no bearing on contribution to society. Asked why sterile couples can wed if procreation is issue.

— Chris Johnson (@chrisjohnson82) January 9, 2015
Notably, Higginbotham had no questions for @LambdaLegal's Camilla Taylor during her arguments, but really grilled attorney for state.

— Chris Johnson (@chrisjohnson82) January 9, 2015
Stay tuned for further analysis for all the 5th Circuit oral arguments from Ari later…