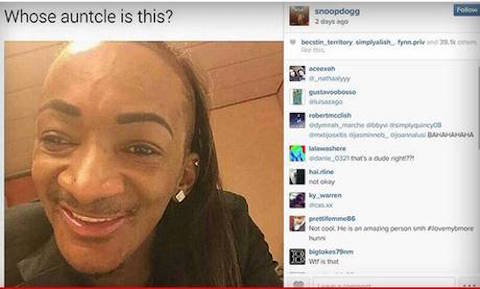 Snoop Dogg is not known as being one of the more homophobic rappers in the music industry; in fact, his song "Dove of Peace" that he performed with Elton John at the end of Sacha Baron Cohen's Bruno along with explicitly stating that he's cool with gay people seems to make him an outright ally.
And perhaps deep down he is, despite having previous instances of homophobia on the internet. What he is not, however, is sensitive to the discrimination and hate that the gay and especially trans community face on a daily basis. This insensitivity is highlighted by a now-removed Instagram photo of Cortez Booze, a caretaker at a senior care facility in Edgewater, Maryland with the caption, "Whose auntcle is this?"
The remark was tasteless and transphobic on its own, regardless of Booze's gender identity, but Snoop's followers, being members of the internet horde, escalated things by orders of magnitude by hurling slurs and hate directly at Booze. In response, Booze allegedly reached out to Instagram to have the post taken down, but when it remained up he consulted his lawyer to investigate a lawsuit against the notorious D-O-Double-G.
The Instagram post has since been taken down, but Snoop has made no public comment and for the moment Booze appears to still be investigating pursuing a lawsuit.