After months of media speculation surrounding Bruce Jenner's changing appearance, a source close to the family has confirmed the former Olympic track and field athlete is in the transition process.
People reports: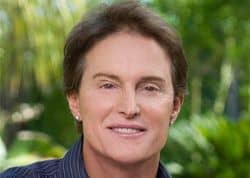 "Bruce is transitioning to a woman," says a source close to the family. "He is finally happy and his family is accepting of what he's doing. He's in such a great space. That's why it's the perfect time to do something like this." 
And according to a different Jenner insider, the 65-year-old reality star is filming his momentous journey, to be shared with viewers on a docu-series this year. "It will air when he is ready to be open about his transition," the source tells PEOPLE. "But he's acting more and more confident and seems very happy." 
The docuseries, set to air on E!, does not have a title or premiere date yet, but Variety reports reps at the network have already planned a meeting with GLAAD on how to handle the subject of Jenner's transition appropriately. 
Earlier this month, gossip rag In Touch started a minor firestorm after publishing a photoshopped picture of Jenner as a woman with lipstick and blush on their cover.