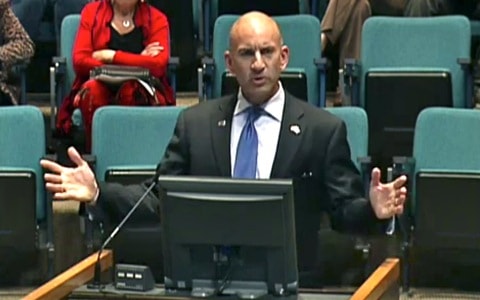 Texas GOP lawmakers plan to introduce a bill that would nullify LGBT nondiscrimination protections covering 7.5 million people. 
The bill is being drafted in response to the Plano City Council's passage of an LGBT inclusive nondiscrimination ordinance last month. It's expected to be introduced by four Republican Plano-area lawmakers, including Rep. Matt Shaheen, above. 
The Texas Observer reports: 
Texas Pastor Council Executive Director David Welch, whose group is leading efforts to repeal equal rights ordinances in Plano and Houston, told the Observer the legislation would prohibit political subdivisions of the state from adding classes to nondiscrimination ordinances that aren't protected under Texas or federal law—neither of which covers LGBT people.

"It should be a uniform standard statewide, and cities can't just arbitrarily create new classes that criminalize a whole segment of the majority of the population," Welch said. "It's just self-evident that they're going to try to do it city by city. We're dealing with a broad public policy that creates criminal punishments. That's a pretty serious issue, and when it's based on a special agenda by a small, tiny fragment of the population … that's a legitimate need and reason for the state Legislature to act."
The bill reportedly will be modeled after a law that passed in Tennessee in 2011.
In the landmark 1996 case Romer v. Evans, the U.S. Supreme Court struck down a Colorado law that banned nondiscrimination protections based on sexual orientation. However, the Tennessee bill attempted to get around Romer v. Evans by simply prohibiting any protected classes that aren't included in state law, rather than specifically targeting the LGBT community. The National Center for Lesbian Rights filed a lawsuit challenging the Tennessee law, but it was dismissed for lack of standing. Now, NCLR reportedly plans to file a federal lawsuit challenging the Tennessee law. 
NCLR Shannon Minter said the Tennessee bill passed in part because the business community was too slow in voicing its opposition to the measure. 
From The Texas Observer: 
"Hopefully this time in Texas the response will be more immediate, and I hope the legislators listen to the business community and do not do something that's going to really hurt the Texas economy," Minter said.

It's been widely speculated that Plano passed its equal rights ordinance in response to Toyota's decision to relocate a major facility to the city, after the company's employees expressed concern about the lack of LGBT protections in Texas. Plano-based Frito-Lay also sent a letter to the City Council in support of the equal rights ordinance.

But Welch dismissed the argument that efforts to undo local nondiscrimination ordinances will hurt business, calling it "a red herring." He said one of the engines of Texas' strong economy is its "family-friendly" climate.

"We're not going to let corporations, Toyota or anybody else, come in and dictate to the community what our standards are going to be on a moral level and religious level," Welch said. "Companies like Frito-Lay had better take thought of who their customers are before they start trying to step up and ramrod these things though, because we will remember."
The Texas legislative session didn't begin until Tuesday, but three other anti-LGBT bills have already been filed — two "license to discriminate" measures, as well one that aims to reban same-sex marriage in the event it becomes legal. Representatives from Equality Texas say they're expecting even more attacks fueled by backlash against the spread of same-sex marriage.