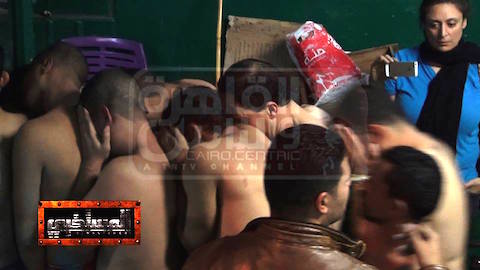 The trial has begun for the men arrested in early December's Egyptian bathhouse raid, Buzzfeed reports.
This story is the latest in the ongoing crackdown on gays by the Egyptian government under President Abdel Fattah el-Sisi. Activists suspect this is a response to criticism from the Muslim Brotherhood that "a non-Islamist government can't be a conservative, moral authority in Egypt."
Egyptian activist May Wasan said of the raid: "It is a spectacle…"[the government] is trying to make a show and treat these men like they are not human."
A lawyer for the defense, Tarek Awady, expressed a similar sentiment, saying:
This case was created by Egyptian authorities to get people talking…It was made to divert our attention to something else so that we don't focus on the real problems in Egypt."
The AP adds:
One lawyer representing 14 of the men, Islam Khalifa, told the court Sunday that the defendants suffered "psychological duress" from the publicized arrests, which defamed and endangered both them and their families in conservative Egypt. He said having the television crew there violated the men's right to privacy and Egypt's constitution.
Of the 26 men, 21 have undergone medical examinations to see if they had had anal sex. Three of men had trauma that required further examination, defense lawyer Tarek al-Awadi said.
While Egypt has no explicit laws against homosexuality, in cases like these the government targets gays citing "perversion" and "debauchery," which are illegal under Egyptian law.
Last week, a group of eight men arrested in Egypt for appearing in a "gay wedding" video back in September were sentenced to one year each in jail.