A petition on WhiteHouse.gov that seeks to ban "conversion therapy" for LGBTQ minors has reached the 100,000 signature goal ahead of its February 2 deadline.
From the petition: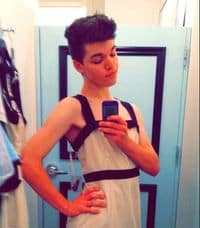 On Sunday, December 27, 2014, Leelah Alcorn a 17 year old transgender youth wrote a suicide note, posted it on Tumblr and then walked in front of a semi-truck tragically ending her life. Leelah explained how her parents had forced her to attend conversion therapy, pulled her out of school and isolated her in an attempt to change her gender identity. 'Conversion therapies' have been documented to cause great harms and in this case, Leelah's death. Therapists that engage in the attempt to brainwash or reverse any child's gender identity or sexual orientation are seriously unethical and legislation is needed to end such practices that are resulting in LGBTQ+ deaths. We respectfully seek your help to ban the practice known as 'conversion therapy' and name the bill in honor of Leelah Alcorn.
The petition currently sits at a little over 105,000 signatures. Petitions that meet the signature threshold will be reviewed by the Obama Administration and receive an official response.