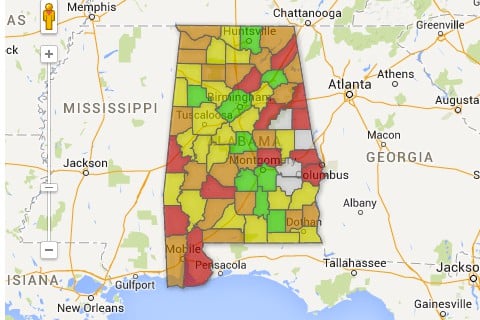 The majority of counties in Alabama, up to 52 of 67 by the count of HRC via the New York Times, are refusing to adequately process the paperwork required by law to issue marriages to same-sex couples.
See interactive map below (via AL.com). Click county for status.
Red = not issuing licenses to same-sex couples. Green = issuing licenses to all couples. Yellow = not issuing licenses to any couples. Orange = accepting applications, issuing no licenses.
It was unclear how many of the judges were acting out of overt defiance and how many were simply weighing how to navigate a freshly jumbled legal landscape after Chief Justice Roy S. Moore of the Alabama Supreme Court on Sunday ordered the judges not to issue marriage licenses to same-sex couples.
"We've got Alabama's chief justice issuing an order, and we've got an order out from a federal judge," said Judge Greg Norris of Monroe County, who is also president of the Alabama Probate Judges Association. "It's just a very difficult situation."
In developments that took place last night, four gay couples in Mobile, Alabama have asked the federal judge who struck down the state's ban to order the Mobile probate judge to give them licenses.