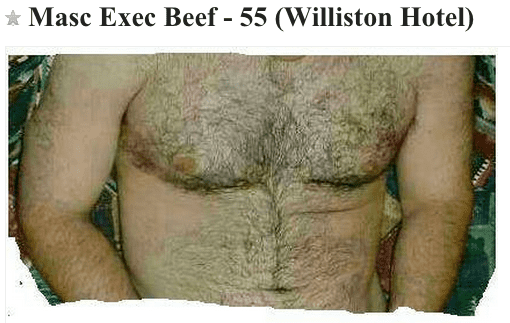 The above image is an actual Craigslist ad for "Men Seeking Men" in Williston, North Dakota. 
As one might expect, Craigslist and Grindr are among the few ways for gay men to meet in the state's booming oil patch — the Bakken shale formation.
Vice.com drills down into the region's gay scene, beginning with the author's first-person account of a rendezvous with a roughneck: 
My one and only liaison in the oil fields of western North Dakota was with a 23-year-old truck driver. Like most such encounters in the oil patch, ours originated on Grindr, the mobile hookup app for gay, bisexual, and curious men. He sent me a photo, and we traded some biographical details. A few hours later, he was in my room at the Williston Super 8.

After our rendezvous, as the November night air dipped below ten degrees, we took shelter in his car to smoke cigarettes. I was only going to be in the state for 48 more hours, but we made tentative plans to go shooting the next day. I was less interested in exercising my Second Amendment rights for the first time than in extending our easy fling. He just needed to see whether he could get off work that day—no small task for someone accustomed to 16-hour shifts, six days a week.
Because they work such long hours, most gays in the oil patch have little time for romance, the story explains. The closest gay bar is in Winnipeg, Canada, a seven-hour drive, and workers risk harassment or losing their jobs if they come out — since few of the companies doing business there have LGBT protections: 
At Outlaws' Bar & Grill, a steakhouse in Williston, I met Jim, a 52-year-old twice-divorced Wisconsin native with two sons. Jim used to run his own advertising business, but it fell apart in the 2008 recession. After struggling to pay off his debt, he decided to move to North Dakota to take a job in what's euphemistically called saltwater disposal, the process of pumping water-like fracking waste deep underground.

"I'm pretty much in the closet," Jim told me. "I just don't want to have to deal with all that comes with it—you know, with all the questions. I think, for me, it's all about meeting Mr. Right. If I met Mr. Right, then I'd be more open." …

During the day, Jim often cruises Grindr, looking for other "masculine" types. There's no shortage of them: the guys who sport beards and tattoos—some heavy-set, some more fit—and self-identify with the app's "rugged" tribe or insist on "masc only." Other than scouring social apps—and if you can't bear the small talk, there's always Craigslist—there aren't a whole lot of ways for Jim to meet Mr. Right.
But even in the oil patch, which may be among the last professional frontiers of gay acceptance, things are slowly changing, Vice reports. Minot, on the eastern edge of the patch, has a Pride group as well as bars with large gay clienteles, and signs of queer life are even starting to bubble up in the heart of the shale:  
There is something of a growing community in Williston at the center of the oil industry as well. Jon Kelly throws occasional house parties for his queer friends. The gatherings are small, but Kelly sees them as evidence of broader progress.
"There are the beginnings of a scene here," Kelly said. "Over the last few years, more and more people are willing to be open about it."
Read Vice's full piece here.