Tech giant Apple has terminated its contract with a former Republican state representative from Alabama, Jay Love, who has a long history of anti-gay views yet who had also recently been hired as a lobbyist for the company. The Washington Blade reports that when questioned about what role Love plays on behalf of Apple, the company commented that Love no longer works for them: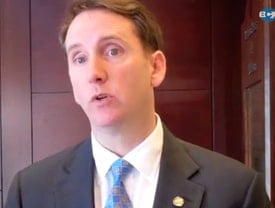 Kristin Huguet, an Apple spokesperson, said Monday her company doesn't employ Love when asked if Apple was OK with his views and why he was hired in the first place. "Jay Love does not work for Apple nor does he do any lobbying on our behalf," Huguet said. 
But if Apple has terminated its contract with Love, the process hasn't formally been certified by the Alabama Ethics Commission. Vicky Manning, a lobbyist for the Alabama Ethics Commission, said she's received no notification yet from Apple that Love's contract was terminated. "As of yet, I do not have the termination statement in our office," Manning said. "They have 10 days in which to submit any changes in their registration." Over the course of his 10-year career as a Republican representing part of Montgomery in the state legislature, Love opposed same-sex marriage.
In the past, Love came out in strong opposition to the 2008 California Supreme Court decision that overturned the state's ban on same-sex marriage (only to be nullified of course by the passage of Proposition 8) and praising former Miss California Carrie Prejean who in 2009 voiced her support for "traditional" marriage. Love even introduced legislation commending Prejean. 
Apple CEO Tim Cook hails from Alabama and in October of last year criticized his home state for moving too slowly on LGBT equality:
"As a state, we took too long to take steps toward equality," Cook, one of this year's inductees into the Academy, said to a crowd gathered in the Old House Chamber at the Alabama State Capitol. "We were too slow on equality on African-Americans. We were too slow on interracial marriage. And we are still too slow on equality for the LBGT community."
The Washington Blade notes that Love declined to comment for their article.