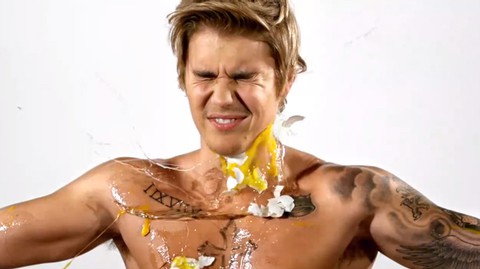 Ahead of his March 30 roast on Comedy Central, Justin Bieber is getting a sampler of what he can expect from his panel of roasters. In a new promo, Bieber gets egged repeatedly while shirtless (his seemingly de-facto state). As The Hollywood Reporter notes, the egging nods to one of Bieber's more childish misadventures:
The eggs are in reference to Bieber's 2014 egg-throwing incident, where the pop singer threw at least a dozen eggs at his neighbor's house that resulted in $20,000 in damages.
"I think it's just cool to be able to laugh at yourself — I've done some things that might not have been the greatest," Bieber told Ellen on his daytime talk show appearance at the end of January.
"I just want to be able to … just kind own up to some of the things," he said about being roasted.
Comedy Central's Facebook post of the promo also made reference to the incident, reading, "Watch Justin Bieber learn how poor, defenseless houses feel. The #BieberRoast premieres March 30."
Watch Bieber take a slice of comeuppance, AFTER THE JUMP…