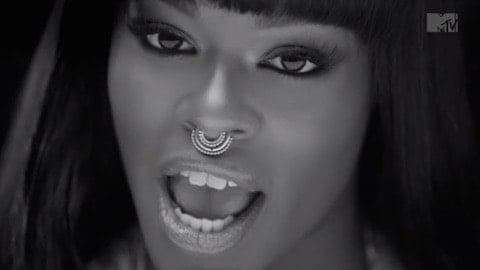 Azealia Banks took to Instagram yesterday to revisit the conversation about her language choices, reaffirming that her supposed homophobia was matched only by gay male misogyny.
Wrote Banks:
"Why is it okay…..For a gay man to colloquially use the word "Bitch" to refer to women, but is it not okay for me to colloquially use the word "Faggot" to refer to myself or an opponent? Do gay men get a special pass to say misogynist things simply because they Like dick? The argument is that countless gay kids hear the word "faggot" before they are beat to death…But do you know how many women hear the word "Bitch" before their husbands beat them to death? Before they are murdered/raped?

Though many of Banks's fan have lauded her willingness to speak frankly about her thoughts on white rappers, she's caught a considerable amount of flack for her use of derogatory terms like "faggot" in the past. The bi-sexual rapper famously exchanged words with Perez Hilton in 2013 and drew GLAAD's attention for called the gossip blogger a "messy faggot" via Twitter.
Banks unapologetically defended her use of the word in an interview with the Guardian back in November in which she reasoned that gay men had no business being indignant at her use of the f-bomb.
"It's like, y'all sing along to my words when I'm saying 'nigga' and 'cunt', but as soon as I call this one white man a faggot the whole world exploded," Banks stated. " Listen, I didn't say all gay men are faggots; I said Perez Hilton is a faggot, so don't try and bring the rest of the gays down with your faggotry."