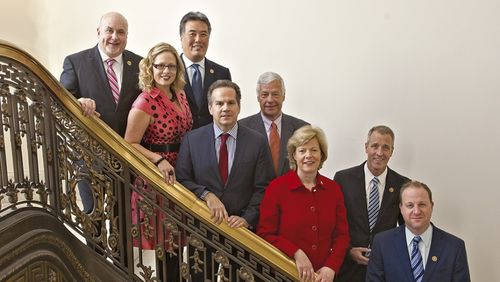 Equality has a price, and evidently that price needs to be less than $400 as the Congressional LGBT Equality Caucus lost members when they asked for dues in that amount for the first time ever. Last year's membership was 114. This year the Caucus sent out invitations to everyone to join, regardless of political affiliation, and 53 congressmen who were members in years prior have failed to sign up this year. Gallingly, some who failed to renew their membership still list themselves as members on their public-facing webpages, such as Seattle's Jim McDermott or New York's Carolyn Maloney, though a spokesperson for Maloney's office alleges that she has renewed her membership.
For a bit of perspective, the Congressional LGBT Equality Caucus – founded in '08 by Tammy Baldwin and Barney Frank – has one of the lowest dues of standard congressional caucuses. The Progressive Caucus charges $2000, and the Energy and Environment Coalition charges between $850-$2000. What's more is that it doesn't matter that the average congressional annual salary is over $172k because dues payments come from each office's official reimbursement account.
BuzzFeed pulled together the full list of congress members who did not re-up their Congressional LGBT Equality Caucus membership, which is as follows:
Earl Blumenauer, Michael Doyle, Alcee L. Hastings, Beto O'Rourke, Charles Rangel,Eric Swalwell, Karen Bass, Xavier Becerra, Suzanne Bonamici, Robert Brady, Michael Capuano, Tony Cárdenas, André Carson, Matt Cartwright, Kathy Castor, Joaquin Castro, Yvette Clarke, Gerald Connolly, John Conyers, Joe Courtney, Peter DeFazio,Keith Ellison, Eliot Engel, Anna Eshoo, Tulsi Gabbard, Janice Hahn, Brian Higgins,Steve Israel, Eddie Bernice Johnson, Henry "Hank" Johnson Jr., Joseph Kennedy III,David Loebsack, Zoe Lofgren, Michelle Lujan Grisham, Stephen Lynch, Carolyn Maloney, Doris Matsui, Betty McCollum, Jim McDermott, Gwen Moore, Patrick Murphy, Bill Pascrell, Chellie Pingree, Lucille Roybal-Allard, Raul Ruiz, Linda Sánchez, John Sarbanes, Louise McIntosh Slaughter, Adam Smith, Paul Tonko, and Juan Vargas.
It should be noted that though these congress members cover a wide swath of states from California to Texas to New York, every single one of them is a Democrat.