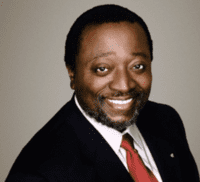 Religious right icon Alan Keyes published a long-winded statement in a WorldNetDaily column on the "dangers" of gay marriage reports Right Wing News Watch. Keyes, who thinks gay marriage will lead to Nazi-style tyranny and "the murder of the masses," wrote that a Supreme Court decision favoring marriage equality "could very well be as momentous as the Dred Scott decision in the 19th century, and just as fraught with potentially fatal implications for the future Liberty and Union of the people of the United States."
Same-sex marriage, according to Keyes, represents a "humanly fabricated right" that undermines "the unalienable right essential for the natural conception and perpetuation of humanity itself." In all, Keyes concludes that a pro-gay-rights ruling from the Supreme Court will serve as a reason for a new revolution and civil war.
Said Keyes:
"This would be an attack on the people of the United States more grievous than that which led the first generation of Americans to declare their independence from Great Britain. If even a significant minority of Americans continue in their attachment to the unalienable right of liberty (as opposed to the licentious freedom that has, in some quarters usurped that name) this attack is likely to produce the separation and dissolution of the United States, for like humanity itself the United States is inconceivable apart from respect for God-endowed unalienable right."
Keyes' second half of his statement, which cites that gay marriage rights stands in opposition to the 9th Amendment to the U.S. Constitution, is available on Loyal to Liberty.