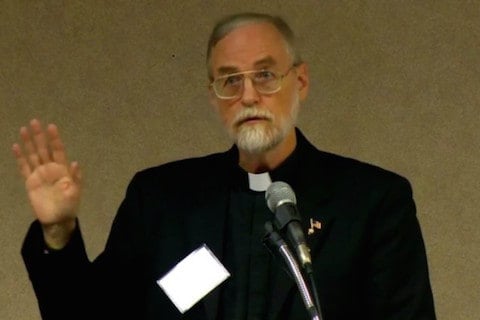 Because who cares about scientific rigor in the search for facts when you can just mimic a famously flawed study to produce the results you want? Not Donald Paul Sullins, a Catholic priest and sociology professor at Catholic University of America. Sullins is a fellow of the Marriage and Religion Research Institute, a project of the Family Research Council, and a Fourth Degree member of the Knights of Columbus, so objectivity in his research is already on extremely unstable ground.
Sullins pulled data from the National Health Interview Survey from 1997-2013 to determine whether or not gay couples make good parents. Unsurprisingly, Sullins' results drew him to the conclusion that same-sex parents are unfit, despite the fact that Mark Regnerus – who oversaw Sullins' study – created a study that was flawed to the point of uselessness and a separate, more reliable study in Australia found the opposite.
Think Progress dismantles Sullins' study piece by piece, pointing out the myriad of flaws present, including the oh-so-small detail that Sullins has no information about whether or not the couples in the data he pulled were actually married, or that somehow according to Sullins' study gay couples are significantly worse for the upbringing of a child than a single parent.
Stand by for this study to be heralded far and wide as proof of the inferiority of gays for a while, or at least until Sullins gets caught in a scandal of some kind.