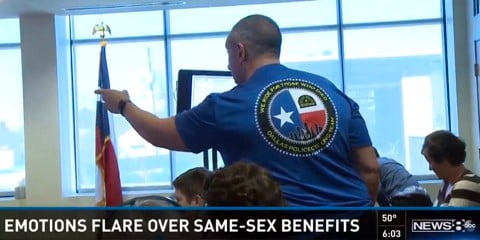 The other day we reported that a Dallas pension board voted to recognize same-sex marriages for the purpose of providing equal pension benefits to gay employees. However, that decision applies only to civilian employees, and on Thursday the city's Police and Fire Pension Board voted to delay a decision on whether to recognize same-sex marriages.
Thursday's meeting reportedly grew heated at times, with one police officer telling the pension board to "grow the nuts that God gave a gnat and do it."
WFAA-TV reports:
The hours of squabbling and litany of failed attempts to spur the board to action stirred the police and fire personnel in the audience to speak out. Ernest Sherman (right) with Dallas police rose and shouted at the trustees.

"I have no dog in this hunt," Sherman yelled. "But, by God, you're a [expletive] police officer. So is she. So is she. They have the same right as you! Period!"

"You will vote today as a board, up or down," Sherman continued, pointing at board members. "Grow the [expletive] that God gave a knat and do it!"
The board didn't heed Sherman's advice. Instead, members essentially opted to put off the matter until the U.S. Supreme Court decides the issue of same-sex marriage. The Dallas Morning News reports:
Interim administrator Don Rohan said it "appears to be imminent" that same-sex marriage will be legalized by the Supreme Court and recommended that the board should just wait on the decision. The majority of board members agreed.





"It has long been the consensus of the Dallas Police and Fire Pension System board of directors that the same-sex spouses of our members should be eligible for survivor benefits. That has never been a question," Board Chairman George Tomasovic said in a written statement. "The only concern the board has on this issue is the legality of providing those benefits since Texas law does not recognize same-sex marriages. Fortunately, the legal landscape on this issue appears to be changing." …

The meeting got heated. Council member Philip Kingston (right) asked Rohan to "pipe down" at one point, causing Rohan to snap back at him. The two had several other heated exchanges. Rohan later asked rhetorically if he was a child, and Griggs answered "yes," prompting some profanity from Rohan in the midst of cross-talk.
More from WFAA-TV on the squabbling:
Trustee Dan Wojcik appealed for calm.

"We are talking about a matter of a few months here," he said. "I do not see any hurry to go ahead and vote on this at this time."

Kingston, who was visibly angry throughout the meeting, lashed out during the discussion. "We keep saying 'wait,'" he said. "I think they're tired of waiting." …

Trustee Samuel Fryer from Dallas Fire-Rescue, who voted against extending benefits in favor of waiting until the High Court makes a decision, seemed to apologize for his position.

"I know what it's like to not be able to go to the same restaurant as you guys go to," said Fryer, who is black. "I lived that […] More power to you once these legalities are over."

"It's discrimination," said Bronda Davis, a Dallas police officer who spoke from the audience after witnessing the heated discussion. "It's cut and dried. We deserve the same benefits that all our men and women in blue and the fire department have. It's just equal."
Watch WFAA-TV's report, including Sherman's outburst, AFTER THE JUMP …