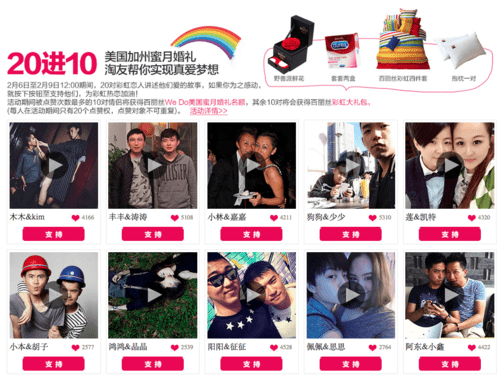 Alibaba is China's answer to the West's eBay and Amazon. The online commerce company made headlines last year after as it entered into the New York Stock Exchange with an IPO valued at $25 billion, the largest in world history. Incidentally, it's also pretty much the only investment that has maintained Yahoo's status as an economically viable business for the last few years. Suffice it to say that Alibaba is an economic force to be reckoned with. The company's PR move in support of same sex marriage, however, makes it clear that it's just as intent on winning over the public's hearts as it is its wallets.
This Valentine's Day TaoBao, one of Alibaba's online shopping subsidiaries, is sponsoring massive ad campaign-cum travel context for 10 lucky same-sex couples who will receive trips to foreign countries where gay marriages are legal and recognize by local governments.
The contest, called We Do, is being backed by a number of big-name name Chinese businesses. Blued, China's most successful geolocation-based social network, is signed on as a partner along with Bliss, a popular textile manufacturing company. As much of a goodwill gesture the campaign is, TechCrunch points out, it's very much a well thought out attempt at tapping into the economic potential attached to China's LGBT population.
All the same, We Do is one of the first and largest instances of a Chinese company openly showing support for LGBT rights in such a bold and stated way. TaoBao has invited its users to vote on a collection of gay couples to decide which 10 will travel to countries where they just might be able to tie the knot including the France, Canada, the Netherlands, New Zealand, and the U.S.
While it's almost certain that TaoBao and Alibaba's intentions with We Do are primarily economic in nature, there's something to be said for the companies' unabashed support of marriage equality. Regardless of their intentions, the impact of the contest (and the implicit messaging behind it) could be invaluable in shifting the conversation about queer rights in China.