As many suspected at the time given his support for it on a questionnaire filled out when he was an Illinois state senate candidate in 1996, President Obama was already fully evolved in his support for same-sex marriage in 2008, according to a new memoir from political strategist David Axelrod.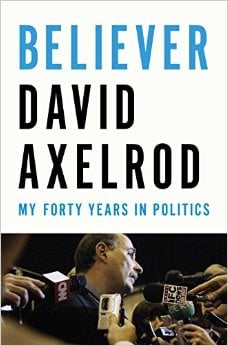 Axelrod, who served as Obama's chief campaign adviser, says he instructed President Obama to lie about it in order to get elected, which he did.
Axelrod writes that he knew Obama was in favor of same-sex marriages during the first presidential campaign, even as Obama publicly said he only supported civil unions, not full marriages. Axelrod also admits to counseling Obama to conceal that position for political reasons. "Opposition to gay marriage was particularly strong in the black church, and as he ran for higher office, he grudgingly accepted the counsel of more pragmatic folks like me, and modified his position to support civil unions rather than marriage, which he would term a 'sacred union,' " Axelrod writes.
Obama told Axelrod "I'm not very good at bullsh-tting" after an event where he told a crowd that he opposed same-sex marriage.
But bullsh-t he did, until a 2012 'breaking news' special report, when he was finally able to tell the truth.
Writes Axelrod:
Yet if Obama's views were "evolving" publicly, they were fully evolved behind closed doors. The president was champing at the bit to announce his support for the right of gay and lesbian couples to wed—and having watched him struggle with this issue for years, I was ready, too.