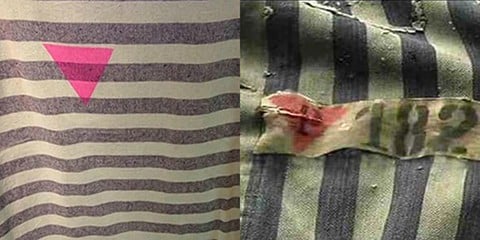 Fashion retailer Urban Outfitters is coming under fire for selling a tapestry that bears a striking resemblance to garb worn by gay prisoners incarcerated in Nazi concentration camps during the Holocaust.
The tapestry in question (above left) has a repeated grey and white stripe pattern with a single neon pink triangle. The pink triangle was used to denote gay prisoners in Nazi concentration camps (pictured above right) and today is an internationally recognized symbol used to remember gay victims of the Holocaust. The symbol is also used by gay rights advocates. 
ADL [the Anti-Defamation League, an anti-Semitism organization] has sent Urban Outfitters a letter, expressing its concern over the "insensitive design and the company's periodic use of products within the realm of Holocaust imagery."
ADL national director and Holocaust survivor
Abraham H. Foxman says in a press release on the organization's website
: "Whether intentional or not, this gray and white striped pattern and pink triangle combination is deeply offensive and should not be mainstreamed into popular culture. We urge Urban Outfitters to immediately remove the product eerily reminiscent of clothing forced upon the victims of the Holocaust from their stores and online"
A search of Urban Outfitters' website did not surface the item in question, which could mean the item has already been removed from sale.
Urban Outfitters is no stranger to selling controversial and offensive items. The retailer previously hawked a homophobic and transphobic card about a 'closet tranny', a Kent State jersey made to look like it was covered in blood, and a t-shirt that bore a symbol that closely resembled the star of David, connoting the yellow badge Jewish people were forced to wear during the Nazis' reign.