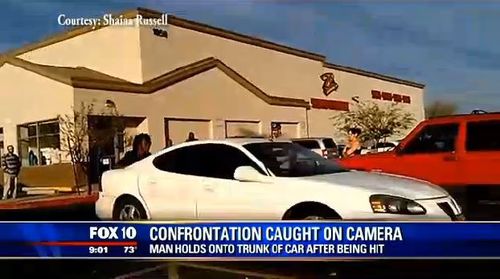 A dramatic altercation outside a Phoenix record store was caught on video Wednesday, with the victim claiming the situation escalated into a hit and run after he was called a gay slur.
24-year-old Justin Finch can be seen in the video getting slammed by a car in reverse. Finch is then pinned between the car and another vehicle before the car speeds off with Finch clinging onto the trunk.
Phoenix's Fox 10 reports: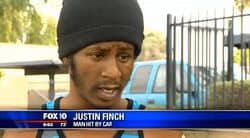 Finch says it all started as he was walking out of the record store.  He says the group called him a gay slur which led to a physical fight and he admits he slammed one of the guys to the ground.  Eventually, Finch says police stopped the car a half mile away.
Police ended up letting everyone go as no one wanted to press charges.
"They said it was a mutual thing, but I don't think it was a mutual thing because I didn't come at them, they came at me," explained Finch.
But those in the other group say Finch isn't the victim.
"I turned around to walk outside and he assaulted me, he picked me up and I started defending myself," said 16-year-old Orlando Munoz, who was one of the people inside the white car.  He was with his uncle and his uncle's girlfriend, who he says was driving.
Munoz's mother, Yvette, who is gay, says her son never used a gay slur and this was no hate crime.
"I think it's foolishness.. both parties should have walked away," she said.
The case is now being forwarded to the Phoenix unit that investigates hate crimes. Finch said he wants the people in the car to face charges.
Watch the video and a Fox 10 report on the story, AFTER THE JUMP…
FOX 10 News | fox10phoenix.com