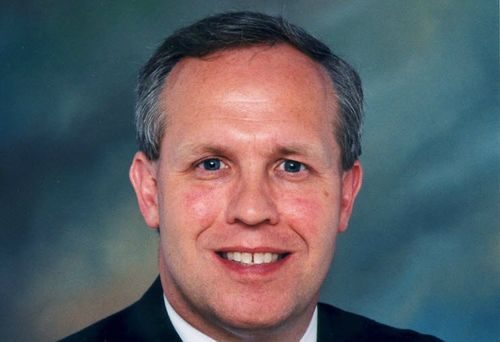 U.S. District Judge Callie Granade has ordered Mobile County Probate Judge Don Davis (above) to issue marriage licenses to same-sex couples.
Late Monday, four same-sex couples in Mobile filed an emergency motion with Judge Granade after Davis stopped issuing marriage licensee to all couples rather than allow gay couples to start tying the knot in his county.
The New York Times reports:
"Judge Davis may not deny them a license on the ground that Plaintiffs constitute same-sex couples or because it is prohibited by the sanctity of marriage," the decision said.
The ruling came shortly after Judge Granade heard arguments from lawyers for four same-sex couples seeking to marry and a plea for clarity from the lawyer of a local probate judge. The decision was expected to send a signal to judges statewide who are caught between a federal ruling and an order from Alabama's chief justice.
Here's the order, via Equality Case Files:
1:14-cv-00424 #55 – Order by Equality Case Files
NCLR reacts via press release:
The Alabama couples are James Strawser and John Humphrey, who previously obtained a ruling from Judge Granade declaring that Alabama's exclusion of same-sex couples from marriage is unconstitutional, Meredith Miller and Anna Lisa Carmichael, Robert Povilat and Milton Persinger, and Kristy Simmons and Marshay Safford. The couples are represented by the National Center for Lesbian Rights (NCLR), the ACLU of Alabama, and Birmingham attorney Heather Fann, and the ACLU of Alabama.
Said NCLR Legal Director Shannon Minter: "Today's ruling by Judge Granade provides clear direction to Judge Davis and other probate judges and will help ensure that all same-sex couples in Alabama, regardless of whether they live, have the freedom to marry."
Added Randall Marshall, Legal Director of the ACLU of Alabama: "Judge Granade's ruling confirms that the U.S. Constitution requires Alabama probate judges to issue marriage licenses to all qualified couples, gay and straight. We hope state and local officials will recognize that their first obligation is to comply with our federal Constitution and will move quickly to follow the court's ruling so that all couples in Alabama will be able to share in the dignity and protection that marriage provides."
NCLR's Erik Olvera is live tweeting from the Mobile County courthouse:
We just WON in #Alabama in @NCLRights marriage case!!! #Time4Marriage pic.twitter.com/oEwOCy2wBT





— Erik Olvera (@JErikOlvera) February 12, 2015
#Mobile #Alabama marriages begin soon. Incredible day! pic.twitter.com/CCuHeCQQil

— Erik Olvera (@JErikOlvera) February 12, 2015