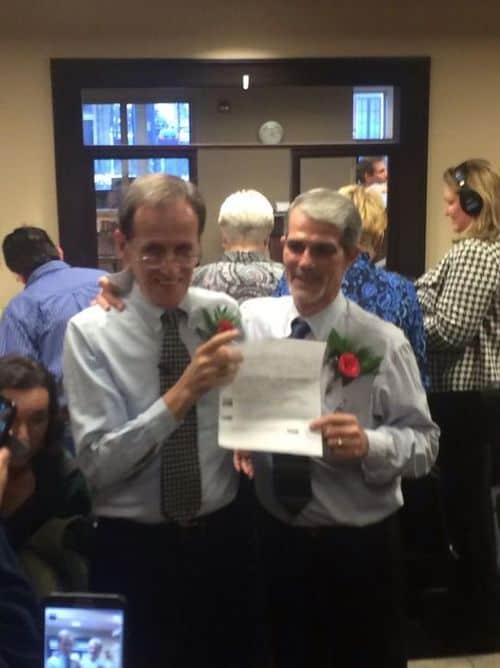 (twitter)
Following U.S. District Judge Callie Granade's order that Mobile County Probate Judge Don Davis must issue license to gay couples, marriage equality has now arrived in Alabama's second-largest county.
Pictured above are Robert Povilat and Milton Persinger, one of the four same-sex couples that filed the emergency motion with Judge Granade Monday night after Davis stopped issuing marriage licensee to all couples rather than allow gay couples to start tying the knot in his county. Povilat and Persinger are the first same-sex couple in Mobile County to receive a marriage license.
Granade's ruling is expected to send a signal to judges statewide that the fight is over. Marriage equality has won.
It's official: The windows have opened in #Mobile, #Alabama – the freedom to marry has arrived! #ALMarriage





— Equality Alabama (@equalityalabama) February 12, 2015
To be clear: #ALMarriage order applies directly to Mobile probate judge, but it sets a guideline for other probate judges, who should follow

— Equality Alabama (@equalityalabama) February 12, 2015