Larry Kramer is set to receive a lifetime achievement award bearing his name from the Gay Men's Health Crisis next month, The New York Times reports: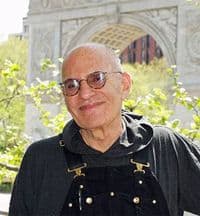 Mr. Kramer, a writer who dramatized the early deaths from AIDS and the struggles of the Gay Men's Health Crisis in his landmark play "The Normal Heart," will be the first recipient of the Larry Kramer Activism Award; in subsequent years it will be given to advocates who reflects his "spirit, passion and fearlessness," said Roberta A. Kaplan, co-chair of the organization's board.
Back in 1981 Kramer helped found the volunteer AIDS organization in his living room. Disagreements over Kramer's confrontational style, however, led to his resignation. He went on to found ACT UP as a more direct action alternative.
Kaplan added that the award will be a permanent recognition of Kramer's contributions to the organization, as well as an attempt "to bring a sense of closure and healing" between Kramer and the group. 
A new documentary on Kramer's life "Larry Kramer: In Love and Anger," is scheduled to air on HBO in June. Watch director Jean Carlomusto discuss the upcoming film, AFTER THE JUMP…