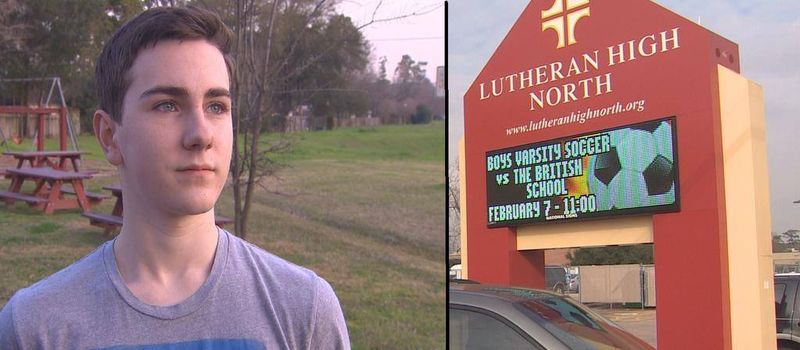 Gay teen vlogger Austin Wallis — who was forced to leave his high school because he's gay — may not have any legal recourse given that it's a private, religious institution. 
However, it's safe to say the school — Houston's Lutheran High North — has now gotten its share of bad PR. And at the very least, other parents of LGBT children — or even those who want their kids to learn in a diverse, real-world environment that's accepting of all people — may be reluctant to enroll them at Lutheran High North. 
Five days after posting the heartbreaking YouTube video recounting how he was threatened with expulsion for being gay, the 17-year-old Wallis went in front of Houston TV news cameras on Friday to discuss the ordeal. 
Wallis didn't identify his former school in the YouTube video, which was first reported by Towleroad and has been viewed almost 200,000 times. However, The Texas Observer revealed this week that it was Lutheran High North, prompting TV reporters to descend upon the school and Wallis, who still seems a little overwhelmed. 
Wallis asked the TV stations not to use his last name, and for the most part he simply reiterated what he said in the video — that the school's principal told him if he didn't delete his YouTube channel, which he maintains with his boyfriend, he needed to find another school. 
Although there's not a lot of new information in the three TV news reports, we do learn that Wallis' mom is supportive, with both her and her son saying they didn't realize the school handbook had a "morals code" prohibiting homosexuality. 
"They had a right to offer this ultimatum and I would stress to all parents read your handbooks," Cheryl Wallis told KHOU-TV. 
Not surprisingly, Lutheran High North officials opted not to go on camera to explain their bigotry. But on a side note, head of school Dallas Lusk contacted yours truly on Friday morning — the day after my report in The Texas Observer — and asked whether the magazine is affiliated with the hacker group Anonymous. Lusk said that since the story's publication, other students were getting "attacked" with lewd images sent to them over social media. I assured Lusk there was no connection and pressed him more information, saying I'd be interested in reporting on the alleged attacks, but he declined and hung up. 
The local TV stations attempted to speak with other students at Lutheran High North, but only one was successful in getting a comment.  
"It's a Lutheran school. What do you expect?" the student said.   
Gee, I don't know, perhaps some Christian love?   
Watch reports from KHOU-TV, KPRC-TV and KTRK-TV, AFTER THE JUMP …