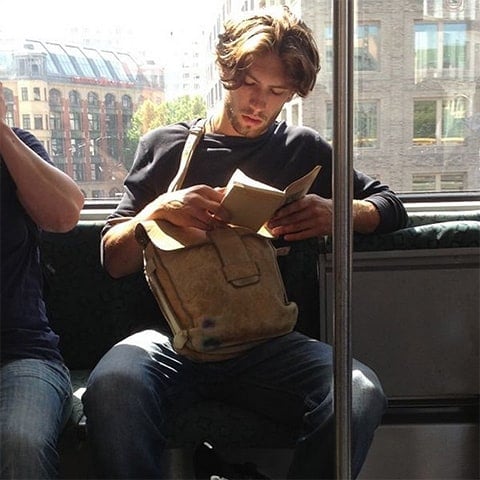 Let's say you're the literary type and like your men to be well-read in addition to possessing prowess in bed. Should this be the case, the Instagram account you want to follow is @HotDudesReading. The newly formed account has already racked up over 34,000 followers with just 9 posts, all of which are stalker pics of inordinately attractive men riding (or waiting for) public transportation in New York City while reading a book — not a kindle or an iPad but an actual book. Each post comes complete with musings about what each hottie is reading, thinking about and where he's headed.
For instance, the above photo is captioned:
Spotted this scruffy prince on his morning commute. Probably to sculpture class. I'm sure he's reading a collection of post-war Russian short stories, but really thinking of how he made love to his French girlfriend this morning and the gluten free toast they shared after. #marryme #hotdudesreading
Another handsome subway rider (below) warranted a 'Dapper Dude Alert':
Dapper Dude Alert! Damn. Whatever prose he's reading cannot match the beauty of that full beard. He's like the hot English professor of my dreams, only with way better hair. #voluntarydetention#hotdudesreading - this ones for @lancebass
And yes, Lance Bass has offered his seal of approval, as Time notes, tweeting, "Hahahahaha! My new favorite IG account to follow! @HotDudesReading #ReadingisSexy."
Catch two more hot bookworms, AFTER THE JUMP…
And follow Hot Dudes Reading HERE.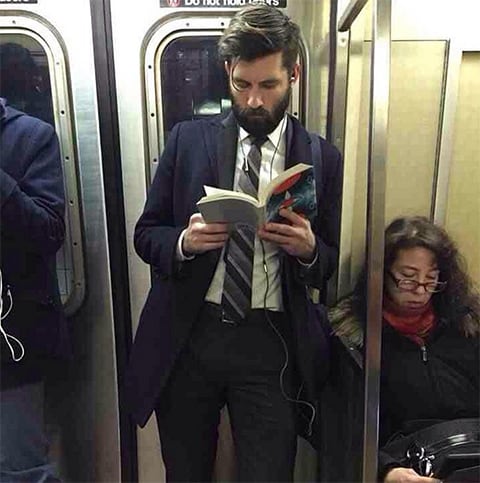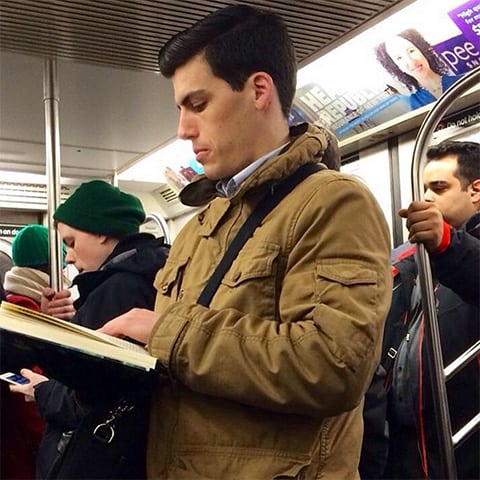 "Sigh. This Clark Kent look-alike seems to have just flown in from Krypton to spend some QT on the F Train with us mere mortals. I may have to pretend to faint so he'll catch me but I'm going to let him finish the last few pages of 100 Years of Solitude first. #superman#hotdudesreading"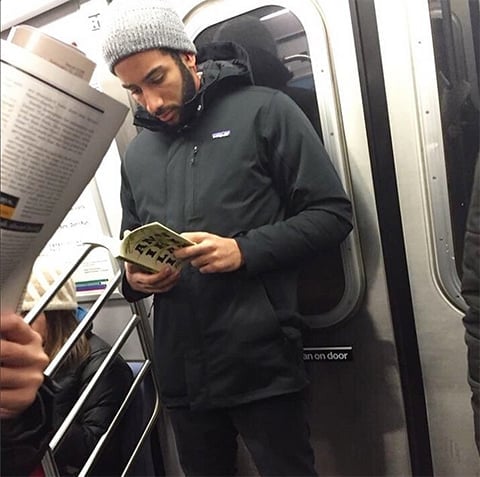 "The book may be obscure but I'm sure this crisp cutie is reading it long before it becomes cool. He probably spent all night dancing at the best underground party in Bushwick, and he still looks flawless. Can't wait to see his record collection. #stacked #hotdudesreading"
(All photos via @HotDudesReading)