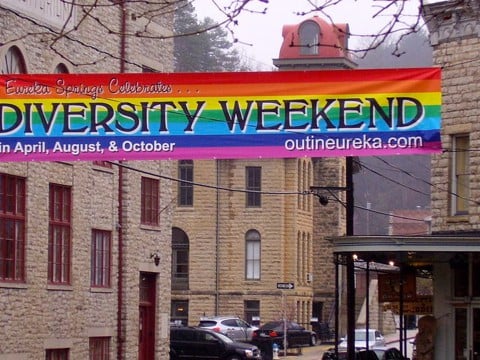 Hours after the Arkansas Senate voted to prohibit cities from passing LGBT protections, the City Council in Eureka Springs — known as "the gay capital of the Ozarks" — thumbed its nose at lawmakers by doing just that. 
The Arkansas Senate voted 24-8 Monday to prohibit cities from adding protected classes to nondiscrimination ordinances that aren't included in state law. Senate Bill 202, which now goes to the House, is a direct response to Fayetteville's decision to pass an LGBT-inclusive nondiscrimination ordinance, which was later overturned at the ballot box. 
The Associated Press reports: 
Republican Sen. Bart Hester, who proposed the legislation, said it is intended to standardize laws across the state, which he said is just as important as civil rights.

"What we need to do in the state of Arkansas is create a uniform and standardized process for any business to come in," Hester said.

The proposal was approved on a mostly party line vote, with three of the Senate's 11 Democrats voting for the bill. The state Democratic Party issued a statement opposing the measure, and the top Democrat in the chamber portrayed the restriction as hypocritical compared to Republicans' rhetoric.

"If Washington passed something like this and passed it down to the states, we would scream about federal overreach," said Senate Minority Leader Keith Ingram.
If SB202 becomes law, Arkansas would be the second state to prohibit cities from banning anti-LGBT discrimination. The other is Tennessee, where the law is being challenged in court by the National Center for Lesbian Rights. In 1996, the U.S. Supreme Court struck down Colorado's ban on gay protections, saying it was unconstitutional for legislators to target a specific group. 
In response to the state Senate's passage of SB202, the City Council in Eureka Springs rushed through an LGBT-inclusive nondiscrimination ordinance on Monday night. The council also passed a resolution opposing SB202 and an emergency clause to make the ordinance effective as soon as possible.  
Arkansas Online reports: 
Eureka Springs Mayor Robert D. "Butch" Berry [pictured right] said he'll sign the ordinance today or Wednesday after document changes requested by the council have been made and a fresh copy of the eight-page ordinance is available. When that happens, Eureka Springs will become the only city in Arkansas with such an ordinance. …

At Monday's council meeting, City Attorney Tim Weaver said SB202 is written to prevent the enforcement of city ordinances like the one the council was discussing. …

Council member Mickey Schneider asked if Weaver meant the city would likely be sued by the state.

"I'm not saying the state's going to sue you," said Weaver. "It's more likely to come from a right-wing group."

"That's even better!" said Schneider. "Bring it on!"