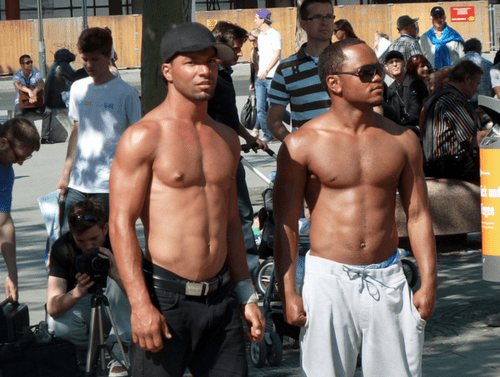 Here at Towleroad we're no strangers to ogling the occasional attractive man reading a book, rapping, or just sort of pretending to be gay. We've got an entire tag dedicated to "HOT MEN" because hotness as a concept is both as newsworthy as it is purely objective. Right? According to new research published in Advances and Consumer Research, that logic is somewhat flawed.
Our general perceptions of what's hot and what's not, it turns out, have less to do with our own inherent aesthetic preferences and are heavily influenced by what we perceive to be socially acceptable. The study, entitled "Instantaneously Hotter: the Dynamic Revision of Beauty Assessment Standards," drew upon photos and "hotness ratings" from HotOrNot.com.
Participants in the study were instructed to rank other people's photographs. Occasionally after giving a numerical score, participants would be allowed to see how other people ranked them, though not every time. As Jesse Singal writes for NY Mag's Science of Us blog, the study focused on the ways in which people ranked others' hotness after they were allowed to see the decisions that other people had made:
"The researchers found that when people saw ratings after making their own judgement, in subsequent judgments they got closer and closer to other people's overall average rating of that photo. In other words — and I'm making up the specific numbers — if on the first photo they ranked they were off by 2 points on a 10-point scale as compared to the average, by the 20th photo they were off by, on average, 1.25 points."
Beauty, it turns out, isn't as in the eye of the beholder as we might think to believe. The study's findings can be interpreted in a number of different ways, but it's important to keep in mind the specific circumstance under which the results were found. It's not often that you'll have a numerical representation of the public's hotness score of another person. Thinking that the whole of your sexual attraction to another person is entirely skewed by societal expectations is a rather depressing thought, to be sure, but this isn't exactly the first time that this idea has been substantiated with numbers.
Sound off in the comments with your opinions.