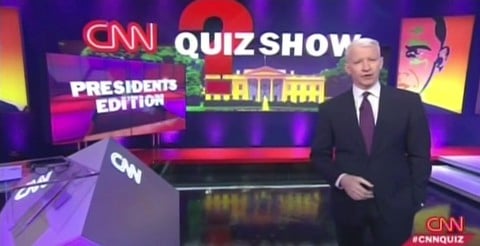 CNN debuted its new "Quiz Show" on Monday night with a special Presidents Edition in honor of President's Day. The show, hosted by silver fox Anderson Cooper, saw three teams of two CNN anchors face off against each other for prize money to go to the charities of their choice. The contenders? Jake Tapper and Alisyn Camerota, Chris Cuomo and Don Lemon, & Erin Burnett and John Berman.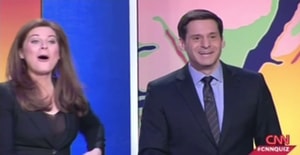 The show had its fair share of funny and awkward moments. After Lemon buzzed in randomly, Cooper retorted, "You can't ring in Don, there wasn't even a question there." Anderson then quipped that trying to get the anchors to focus on the task at hand was like "herding cats."
There was even some shade to be had. Responding to a question about which famous singer had not sung at a Presidential Inauguration, Jon Berman responded Beyoncé, which Cooper noted was incorrect (Queen Bey performed at President Obama's 2012 inauguration). Not so said, Berman–"She lip synced."
Twitter, meanwhile, had its fair share of fun at the anchors' expense. Jake Tapper won nerd points across all platforms.
Watching #CNNQuizShow. Gap between brightest and dimmest CNN anchors is painful. Not mentioning any names here! (but @jaketapper rules)

— Jim Meigs (@jamesbmeigs) February 17, 2015
It's clearly a death match between @JohnBerman and @jaketapper Think Berman should get bonus points for Beyoncé answer #CNNQuizShow

— Laurie Goldberg (@LaurieGoldberg) February 17, 2015
Don't tell @JohnBerman that Thomas Jefferson's Vice President shot first. #Burrther #CNNQuizShow

— Jake Tapper (@jaketapper) February 13, 2015
Watch the show in its entirety, AFTER THE JUMP…