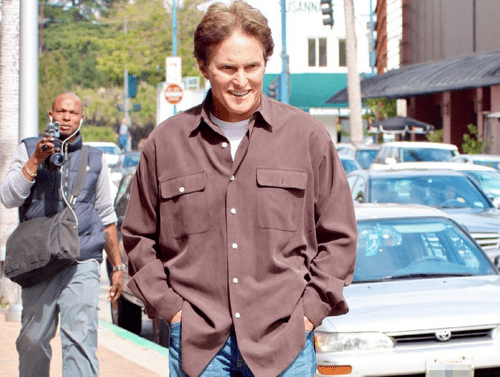 The Interplay is a special biweekly series exploring the intersections of sex, pop culture, and current events.
We need to have a conversation about the way we discuss and and make sense of the public comings out of high-profile trans-identified people. The prospect of Bruce Jenner's coming out as transgender carries a significance that's far larger than Jenner as an individual or us as people who have agreed to pay attention to his life. Much of that significance stems from the way that we (the queer press) and we (the general public) are talking about Jenner the idea as opposed to Jenner the person in relation to a trans identity.
Advocates like Laverne Cox, Janet Mock, and Jill Soloway have made significant inroads in reframing the way that the general public thinks about and understands trans folks. Both Orange is The New Black and Transparent feature narratives that center around trans characters whose identities are complicated and nuanced. Similarly, Janet Mock's memoir Redefining Realness and her gig hosting MSNBC's "So Popular" do the very simple yet powerful work of presenting trans people as people rather than reducing them to their gender identities.
In their own ways these creative works have done a significant amount of work in the fight to challenge depictions of trans people that fixate on their bodies. Orienting the public discourse about trans experiences towards stories of everyday humdrum-ness invites people to see trans folks as being a part of the "normal" human experience. The importance of that importance cannot be overstated.
In talking about Bruce Jenner, however, we (the gay media) and we (the general public) are in something of an odd position. As much as we may not want to admit it, much of the speculation and discussion of Jenner's purported desire to transition has been grounded in a set of assumptions based on his shifting physical appearance. As interest in Jenner's gender presentation has flourished, the conversation focused on him has become one preoccupied with specific physical characteristics and his bodily features. For every piece speculating about the impact that Jenner could have on the broader trans community, there are more that fixate on Jenner's body as a spectacle–turning it into something to jeer at rather than celebrate and welcome with open arms.
Much of the aggression directed at trans people is a direct manifestation of the ways in which general society refuses to accept trans bodies as valid. We, as a media producing and consuming public are doing little to alleviate that problem by obsessively focusing on the minute details of Jenner's purported physical transformation. Through our fixation with his body we pathologize and ultimately demean the story of one of the most potentially important trans people of the 21st century.
In many ways the public's scrutiny of his life is par for the Kardashian/Jenner course. Bruce Jenner is a high-profile public figure who chose to become a part of an even higher-profile family of people famous for inviting the public to comment on and speculate about their lives.  As Bryan Lowder explained in an all-staff e-mail circulated throughout Slate, however, there is a degree to which the very act of discussing Jenner can quickly turn toxic:
"[C]ertain stories touch on larger issues (e.g. Jenner's intersects with reality TV, tabloid culture, etc.) and deserve attention in kind, but by participating in those stories we are taking part in a culture that already places trans people under heightened and dangerous scrutiny.





There is nothing inherently salacious or juicy about someone's being trans. The line between reporting relevant information of interest to our readers and taking part in disrespectful gossip can be thin."
There is a power in talking about Bruce Jenner that we would all do well to be cognizant of in our day to day discussions of his life. It's difficult to say what it would mean for trans-visibility were Jenner to come out but the necessity of speaking about him in a measured and thoughtful way is of equal importance. Bruce Jenner's story, like those of all people who may be transgender, is about more than his body. We owe it both to him and to ourselves to treat it as such.