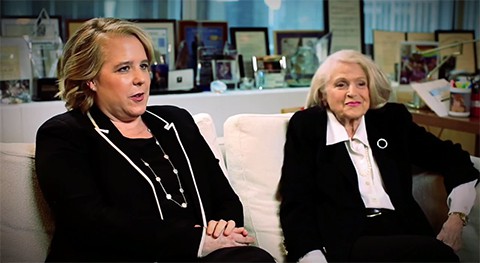 As the Supreme Court's consideration of same-sex marriage draws closer, the Human Rights Campaign (HRC) and über gay rights litigator Roberta Kaplan (who argued against DOMA on behalf of plaintiff Edie Windsor) have launched a new campaign that will allow individuals across the nation to join in on an amicus brief that will let their voices be heard by the Court. The brief, the first of its kind, has been dubbed, "The People's Brief": 
As the nine Justices prepare to hear oral arguments in four critical marriage equality cases this spring, The People's Brief marks the first time that tens of thousands of fair-minded Americans will have the opportunity to have their voices formally heard in a civil rights case of this magnitude. Americans who are LGBT or have LGBT friends, family members, and colleagues can review the content of the brief, and affix their name to a document that will be considered by the highest court in the land.
Said Kaplan of the brief, "Modern technology allows us and allows HRC to reach so many more people than have ever been reached before."
DOMA plaintiff Edie Windsor urged people to sign the brief:
I think it's important for the Supreme Court, for the justices, to see an incredible quantity of people. Americans are fair; they know about fairness. They like justice and if everybody is signing this thing I think the justices will read that as very important.
Watch a video of Kaplan and Windsor talking about The People's Brief and the fight for marriage equality, AFTER THE JUMP…