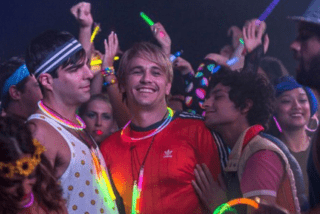 In an interview with Vulture, James Franco opens up about his self acknowledged affinity for projects focused on stories about gay lives and the struggle for queer rights. I Am Michael, Franco's latest film that's currently doing the Sundance circuit, tells the story of Michael Glatze, a former editor at XY magazine who suddenly renounced his homosexuality in the early oughts following a health scare and became a high-profile member of the ex-gay movement.
"It's because of their art, and then their art was partially informed by their sexuality," Franco said of his storied history acting in gay-themed projects. "But then with something like Interior Leather Bar or Milk, those are obviously engaging with gay themes, gay rights, gay politics."
Franco continues:
"Lee Daniels says that gay rights are the civil rights of our era, so I like doing a movie like Milk or Interior Leather Bar where I can bring themes and ideas I've been engaged with, and do it in such a way that those ideas are pulled into the mainstream more.

I feel like that's my place: I can in some ways lend myself and say that these are important issues of equal rights, though on the other hand, I'm very much about preserving this queer kind of space of defying identity and defying labels. I think there are a lot of those themes in this movie as well."
Read the full interview with James Franco and I Am Michael director Justin Kelly HERE.