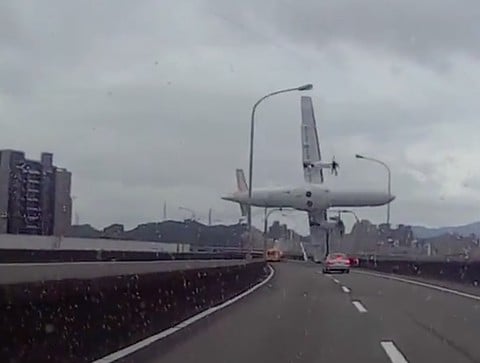 A TransAsia flight from Taiwan to Kinmen, China crashed Wednesday shortly after take-off, clipping a highway and landing in a shallow stream, The Guardian reports. The plane's terrifying descent was captured by a dashcam in a car on the highway the plane clipped. The TransAsia plane also clipped a taxi cab on that highway, the driver of which was sent to a local hospital with a concussion. The cause of the crash is not yet known. At least 19 people are reportedly dead. From The Guardian: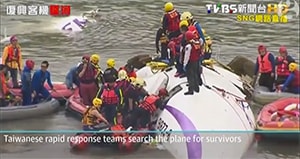 At least 34 people have been pulled from the plane's wreckage, which remains partially submerged in shallow water about 100 metres from the shore. Twenty-four people remain missing, according an early evening report from Taiwan's Civil Aeronautics Administration.
The reported death toll has been fluctuating throughout the day, with estimates as low as 19 and as high as 23 by early evening local time. The administration said 15 others were injured.
The rescue effort for survivors is ongoing. Wu Jun-hong, a Taipei Fire Department official who was coordinating the rescue, commented, "Those in the front of the plane are likely to have lost their lives."
Video footage from the scene has shown survivors, including a young child, being pulled from the wreckage to safety. The plane's black box has been located, though the cause of the crash was not immediately clear:
"Weather conditions were good and the pilot had 14,000 hours of flying hours and the co-pilot 4,000 hours," Lin Zhiming, a representative from Taiwan's Civil Aviation Authority, told reporters on Wednesday afternoon.
Watch harrowing video of the plane crash along with efforts of rescuers to save any survivors, AFTER THE JUMP…
These appear to be some photos of the TransAsia ATR72 crashing over the roadway. via @missxoxo168 h/t @marker7193 pic.twitter.com/7WlvhVFI6j

— Airline Reporter (@AirlineReporter) February 4, 2015