The State Department has announced Secretary of State John Kerry will soon appoint a special diplomatic envoy to promote LGBT rights abroad, The Washington Post reports: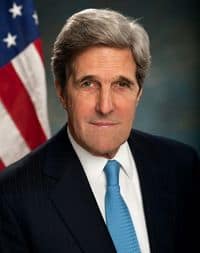 The appointee will be an openly gay career diplomat, the State Department said in a statement.
In the past, Kerry has advocated for LGBT rights himself. He released a statement last year condemning Uganda's anti-homosexual legislation, which later became law in that country, and he has worked with groups trying to discourage Eastern European media from portraying gays negatively. […]
Human rights advocates applauded Kerry's plan for the special envoy last week. Human Rights First legal counsel Shawn Gaylord called it a "major milestone in the fight for equality worldwide, sending an important message to foreign governments that protecting the rights of LGBT people will remain a key foreign policy priority of the United States well beyond the current administration."
The State Department plan mirrors legislation proposed last month by Sen. Edward Markey and Rep. Alan Lowenthal.