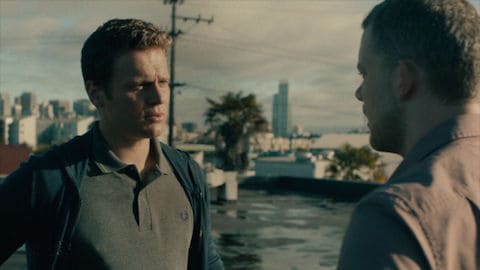 The title of tonight's episode, "Looking Down the Road," might look toward on the future, but there was an awful lot happening in the present. Tensions broke across a few key relationships, creating ripples to reverberate across these characters over the next few weeks.
Don't get too used to the rapid developments, because next week's episode, which we've already had a peek at, is a return to the show's slower form. It's also one of my favorite episodes of the series, so make sure not to miss it.
But before we get there, let's chat about some of the thing that went down tonight, AFTER THE JUMP …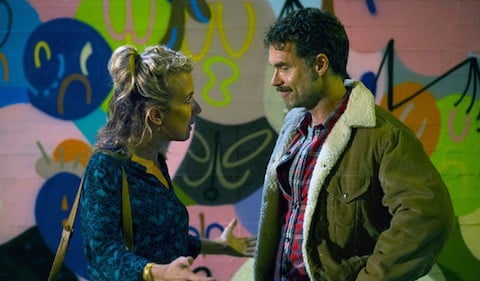 You would think that Patrick (Jonathan Groff) would be able to work through any issue with Kevin (Russell Tovey) if it meant seeing the sexy Brit making breakfast in his briefs. I kid, but it is still sad to see their affair come to what seemed like a necessary end. Despite their obvious connection, there really wasn't a future for them until Kevin made a choice. By not ending things with his partner nor honoring Patrick's ultimatum, his inaction ended up being the most decisive thing we've seen Kevin do since he first planted one on Patrick at the wedding last season.
Equally revealing was Patrick's meeting with Richie (Raúl Castillo). Who knew ice cream could be served so cold? In the short conversation we witnessed, Richie dropped so many cold, hard reality checks. "You a home-wrecker now, Patrick?" definitely stung, but even his comment, "You have a stylist, you need to stay loyal to him" felt like a warning shot. However, the real cherry on top was "You don't want to be in deeper than the person you're with."
That's a message that could have applied to Dom (Murray Bartlett) as well. Comparing Dom and Lynn (Scott Bakula)'s relationship to Agustin (Frankie J. Alvarez)'s last season, it was interesting how Dom and Lynn — both older and a bit more mature than Agustin — cut immediately into what really wasn't working in their relationship without diverting attention to their open relationship. The power dynamic always felt off between Dom and Lynn, and I'm not sure if Dom's optimism about Lynn's ability to love was a moment of maturity or naivete. Either way, it appears Dom is on the precipice of big change, and change doesn't seem like Lynn's thing .
We didn't spend too much time with Agustin tonight, but his job at the shelter (and relationship with Daniel Franzese's Eddie) could yield some really compelling stories. I asked series creator Michael Lannan about Agustin's new job when we spoke ahead of this season's premiere:
Towleroad: We got introduced to Agustin's new job, and I'm wondering if we'll get more of a youth story via the teens Agustin and Eddy are working with.

Michael Lannan: I think I would say that it's definitely there in the show. I think Eddie and Agustin, their relationship is the heart of the season, but definitely Agustin experiences some new things being in that world. It's so different from anything he's done with his life before.
What did you think of tonight's episode?