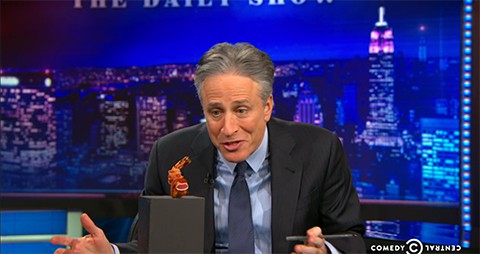 Jon Stewart and his staff were left at the altar Monday night when the Defense Department decided to reverse a policy Stewart and the show were planning to report on as they went to air. With a whole opening segment to fill, Stewart wondered where to turn. Then he remembered that former Arkansas Governor Mike Huckabee is on a book tour for his new tome God, Grits and Gravy and could surely be relied upon to dole out some crazy worth skewering. Stewart's calculation was correct.
After first lampooning Huckabee's outrage over professional women in New York who use the "f-bomb" in professional settings, something that would never happen in the South in the Midwest of course, Stewart went to town on Huckabee's most recent comments on same-sex marriage. Huckabee said that asking Christian bakeries who oppose same-sex marriage to provide wedding cakes to same-sex couples is "like asking a Jewish deli to serve bacon-wrapped shrimp." Stewart was quick to point out the W-T-F inherent in Huckabee's comments:
"Not all Jews own a deli. Some of us, and I say this with respect, some of us are lawyers who represent deli owners. But more important, that analogy makes no f–king sense. No one is forcing you to get metaphorically married to the Biblical abomination that is this bacon wrapped shrimp."
Stewart then interviewed a very emotional bacon-wrapped shrimp about the painful toll intolerance wreaks on the oppressed and marginalized.
Watch the hilarious bit, AFTER THE JUMP…