In an interview with UK's Attitude, Lance Bass revealed that he was bullied into coming out by bloggers like Perez Hilton after he was given a 24-hour ultimatum back in July 2006.
The Independent reports: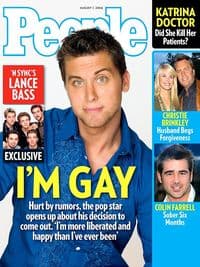 The singer, 35, told the Ricki Lake show in 2013 that he was frightened to come out in the early Ninetines and late Noughties, because he feared it would have "completely ruined" the hugely popular boyband.
He has since told Attitude that he was given a day to choose between coming out, or being outed.
"Two years before I came out I was really bullied on the internet by bloggers, that's when Perez Hilton just started and was just really malicious against me," he said.
"So, because of the bloggers like him hounding me, all the other magazines started calling me and saying , 'Look, we know you're gay, you can write the story with or without us, but we have to write it,' I decided to go with People [magazine] and I think they did a great job.
"I had 24 hours to decide if I was going to come out or not, and within 24 hours it was on the stands."
Check out a clip of Bass talking with childhood friends about living in the closet during his NSNYC days that aired on the Lance Loves Michael: The Lance Bass Wedding special earlier this week, AFTER THE JUMP…