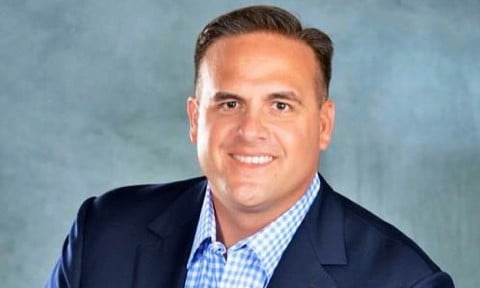 A Florida lawmaker wants to throw transgender people in jail for, well, using public restrooms. 
Representative Frank Artiles, R-Miami, introduced a bill this week that would make it a first-degree misdemeanor, punishable by up to one year in jail, for transgender people to use public restrooms — or fitting rooms or locker rooms — according to their gender identity. On top of that, the bill would allow people to file lawsuits against those who violate the law, as well as owners of businesses where violations took place, and recover attorneys' fees. 
We're not kidding, folks, this is actual legislation that's been introduced in the nation's fourth-largest state.
Artiles reportedly filed it in response to Miami-Dade County's recent decision to ban discrimination based on gender identity in public accommodations. He told The Miami Herald his No. 1 concern is public safety, but needless to say he cares nothing about the safety of transgender people. 
"The purpose of this act is to secure privacy and safety for all individuals using single-sex public facilities," House Bill 538 states. "Single-sex public facilities are places of increased vulnerability and present the potential for crimes against individuals using those facilities, including, but not limited to, assault, battery, molestation, rape, voyeurism, and exhibitionism."
From The Miami Herald: 
"It's not that the transgender or the gender identity community is dangerous by any means," Artiles said, "but [the ordinance] creates a giant loophole for criminals, sexual deviants and sexual predators to walk into a shower, a woman's locker room under the cover of law.

"A man such as myself can walk into the bathroom at LA Fitness while women are taking showers, changing, and simply walk in there. Someone can say, 'What are you doing there?' Under the ordinance, I don't have to respond. It's subjective. If I feel like a woman that day, I can be allowed to be in that locker room. I don't know about you, but I find that disturbing."
Artiles' bill drew swift condemnation from LGBT advocates and Democratic lawmakers, the Herald reports:
The ACLU of Florida also weighed in:

"This 'show your papers to pee' bill denigrates both transgender and non-transgender people alike," said Daniel Tilley, the group's LGBT-rights staff attorney. "In addition to dehumanizing transgender people in particular, it invites humiliation and harassment of anyone who is not considered sufficiently feminine or masculine in the eyes of the beholder. Will girls in soccer uniforms be stopped at the bathroom door and asked to produce their birth certificates?" …