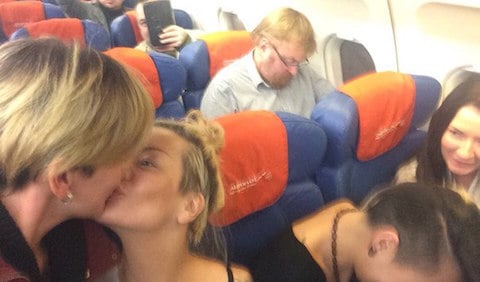 With the general social climate in Russia one wouldn't be faulted for assuming that the country is naught but 6.6 million square miles of homophobia and the Baba Yaga, but every now and then glimmers of hope float to the surface. In this instance the Instagram account of infinitykseniya has photographic evidence of a woman who took advantage of a rare opportunity to make her distaste for the vile homophobia of Vitaly Milonov known.
Milonov, of course, is the author of St. Petersburg's law banning gay 'propaganda' which became the basis of the national law.
On a flight from Moscow to St. Petersburg, Kseniya noticed that the notorious lawmaker was sitting behind her and decided that was the perfect time to take a selfie…while making out with her girlfriend. According to Meduza, the caption of the Instagram photo read:
Who's that behind us??? MILONOV! But we don't give a sh*t! We're flying to our favorite [lesbian] club Infinity
She later wrote on her VKontakte page in greater detail about the events on the plane:
Lots of people are asking me about my last post: did we really go and kiss in front of Milonov? Was it really Milonov? Maybe it was just somebody who looked like him? What was the flight like? and so on. Here are my answers: Yes it was really Milonov! As fate would have it, he was sitting in the row right behind us. The whole flight from Moscow to St. Petersburg, Milonov said nothing to us. We staged the photoshoot in front of him, and he hid behind his tablet, when he realized. We're all super happy. Him—probably not so much. But who cares! Attached is the rest of the photoshoot. #milonov #antihomophobia
Milonov responded with his usual sense of class and decorum by calling the women inhuman animals, demanding they be blacklisted from flying, and threatening to call the Cossacks, the ultra-Orthodox group who brutally beat Pussy Riot about this time last year.