The Office of Congressional Ethics has been asked by Citizens for Responsibility and Ethics in Washington (CREW) to investigate whether Rep. Aaron Schock (R-IL) violated House rules by accepting free interior decorating work on a 'Downton Abbey'-inspired office which was the subject of a Washington Post article published yesterday.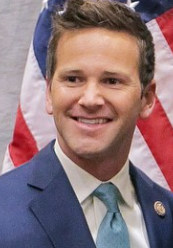 CREW reports, via press release:
The redesign was provided by Anne Brahler, an interior decorator from Illinois, and her firm, Euro Trash. A member of Rep. Schock's staff told the Post Ms. Brahler "offered her services for free."  Ms. Brahler also redesigned Rep. Schock's previous congressional office.
"Perhaps it's not totally surprising that the same congressman who spent campaign money on P90X workout DVDs wanted to create a more picturesque setting in which to be photographed, but the rules clearly require him to pay for those renovations himself," said Anne Weismann, CREW's Interim Executive Director.  "Again and again, Rep. Schock's seeming obsession with his image impedes his ability to conduct himself in ethical manner."
House rules broadly prohibit members of Congress from accepting gifts, which are defined in the rules as any "item having monetary value," including "gifts of services."  The rules explicitly prohibit members from using "outside private donations, funds, or in-kind goods and services" to pay for their congressional office expenses.  Only appropriated funds or a member's personal funds may be used for these purposes.
Read the ethics complaint HERE.
Also, under investigation is whether Schock used campaign funds to pay for his office furniture:
CREW reported in 2012 that Rep. Schock's campaign paid $5,522 to Ms. Brahler's company for what it described as "office equipment."  Today's revelation that Ms. Brahler redecorated Rep. Schock's previous suite strongly suggests Rep. Schock used campaign funds to pay for the furniture in that office — a violation of House rules — and raises questions about whether he used campaign funds to pay for the furniture in his new office.
Read our post about Schock's 'Downton' office HERE.
Last one. Full shot of Aaron Schock's office. http://t.co/PJ1NGekafQ pic.twitter.com/2SjsGQlKhp

— Ben Terris (@bterris) February 3, 2015