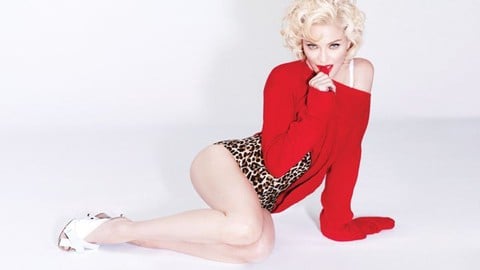 In the new issue of Rolling Stone on newsstands Friday, Madonna addresses ageist remarks that have been hurled at her as of late. The Material Girl, ever the pioneer, vows that she's not interested in being average and wants to empower women to understand that they can still be relevant and sexual regardless of their age. Madge goes on to call ageism "the last great frontier" in civil rights:
"It's still the one area where you can totally discriminate against somebody," she says, "and talk shit. Because of their age. Only females, though. Not males. So in that respect we still live in a very sexist society."
"No one would dare to say a degrading remark about being black or dare to say a degrading remark on Instagram about someone being gay," Madonna continues. "But my age – anybody and everybody would say something degrading to me. And I always think to myself, why is that accepted? What's the difference between that and racism, or any discrimination? They're judging me by my age. I don't understand. I'm trying to get my head around it. Because women, generally, when they reach a certain age, have accepted that they're not allowed to behave a certain way. But I don't follow the rules. I never did, and I'm not going to start."
You can listen to Madonna address the entrenchment of ageism in pop culture, AFTER THE JUMP…
The Queen of Pop also talked to Rolling Stone about the rumors of a feud between her and Lady Gaga and the perception that Gaga is after Madonna's "crown", a claim she refutes: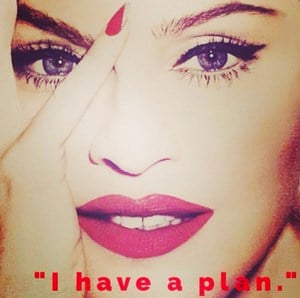 "I don't think she wants my crown," Madonna says, referring to Gaga. "We live in a world where people like to pit women against each other. And this is why I love the idea of embracing other females who are doing what I'm doing. . .The only time I ever criticized Lady Gaga was when I felt like she blatantly ripped off one of my songs. It's got nothing to do with 'she's taking my crown' or 'she's in some space of mine.' She has her thing. I do think she's a very talented singer and songwriter. It was just that one issue. And everybody's obviously running with it and turned it into a huge feud, which I think is really boring, quite frankly. And you know what? I don't care anymore. Here's the thing: one day everyone's going to shut up about it. You'll see! I have a plan. "
Does Madonna's plan involve a collaboration with Gaga, perhaps? We can only hope and wait for the plan to reveal itself.
Madge's new album Rebel Heart is available March 6th.
(Photo via Rolling Stone)