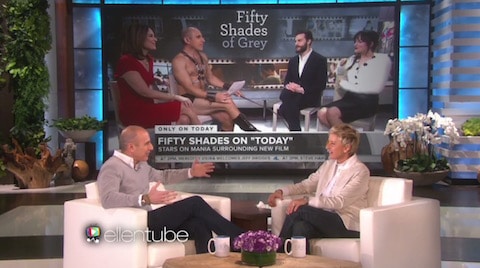 A couple of weeks ago we showed you the interview on The Today Show between the stars of Fifty Shades of Grey and a very enthusiastic Matt Lauer. Today we bring you a clip of him appearing on Ellen to thank the perky talk show host for all of the new friends on Twitter that he gained after her prank hit the air:
So, to the people like @RoughNReady and @IveBeenAVeryBadGirl, I just want to say thank you very much for your kind tweets.
Matt has promised revenge down the line, but as a peace offering Ellen sent him home with a special gift to hang on his wall.
You can watch the conversation between Ellen and BDSMatt – with a bonus appearance of Leatherman Al Roker – AFTER THE JUMP…