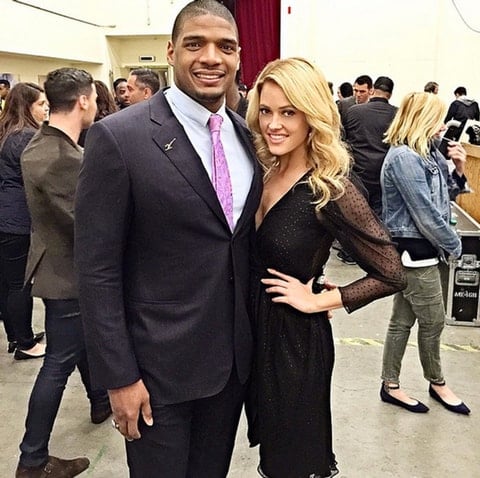 NFL free agent and the league's first openly gay player to be drafted has confirmed reports that he will be joining the next season of Dancing With The Stars. Said Sam on Twitter,
Very excited to be a part of @DancingABC. Football remains my unquestioned number 1 priority, however, while I continue to train and stay ready, I am ecstatic to participate in a fun, athletic competition like so many players before me have done. Filming this offseason is very flexible and allows me to be part of the veterans combine 3/22 if accepted or any other workouts. I'm looking forward to getting started with @PetaMurgatroyd and winning! Thanks for the support! #TeamSambatroyd
Sam's dancing partner Peta Murgatroyd tweeted her own excitement to work with Sam:
Woohoo!!!! I'm so happy to be paired with mikeysam52 👊👌😝 This is gonna be an incredible season!… https://t.co/o3oouKAmN8

— Peta Murgatroyd (@PetaMurgatroyd) February 24, 2015
The official announcement from ABC came on Good Morning America Tuesday.
The International Business Times reports:
Sam, who was drafted by the St. Louis Rams but was cut before the start of last season, will join another athlete, Olympic gold medal gymnast Nastia Liuken, on the show. Past winners of the dance program include football stars Hines Ward, Emmitt Smith and Donald Driver.
The defensive end will be fighting to make a roster somewhere in the NFL, and will hope to get accepted into the first Veteran Free Agent Combine in March. Sam didn't play in a regular season game last season. He was let go by the Rams during the final round of cuts after the preseason. He later joined the Dallas Cowboys' practice squad but was cut after seven weeks.
Sam is recently engaged to boyfriend Vito Cammisano, a face we can look forward to seeing in the audience in the DWTS ballroom.