Michigan Governor Rick Snyder announced today that the state would recognize more than 300 same-sex marriages that took place last March after the state's ban was struck down but before the Sixth Circuit suspended the ruling.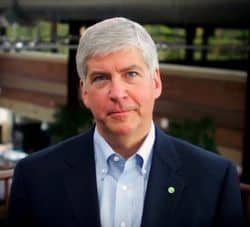 On January 15 U.S. District Court Judge Mark Goldsmith ordered the state of Michigan to recognize the marriages and Wednesday Snyder said he would not appeal that ruling.
Said Snyder in a statement:
"The judge has determined that same-sex couples were legally married on that day, and we will follow the law and extend state marriage benefits to those couples.
"I appreciate that the larger question will be addressed by the U.S. Supreme Court this year. This is an issue that has been divisive across our country. Our nation's highest court will decide this issue. I know there are strong feelings on both sides of this issue, and it's vitally important for an expedient resolution that will allow people in Michigan, as well as other states, to move forward together on the other challenges we face."
The case challenging Michigan's ban on gay marriage is set to go before the U.S. Supreme Court this year, along with challenges to bans in three other states that fall within the Sixth Circuit's jurisdiction.