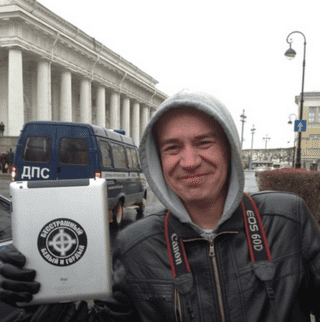 Timur Isayev/Bulatov (pictured right), the Russian anti-gay activist responsible for outing some 30 LGBT teachers to ruin their careers, may have gotten his karmic retribution last December but others are only too happy to carry on his work. A group identifying itself as the "public ombudsman for children's rights" – because, as always, children make the best shields to hide behind when expressing one's hateful bigotries – "raided" a St. Petersburg school to demand the dismissal of a teacher supportive of LGBT rights and equality, as BuzzFeed reports.
These people are, of course, in no way affiliated with the actual governmental office of children's rights ombudsmen, an office held by a woman named Svetlana Agapitova. Of this rogue group a spokesman for Agapitova said,
In the subway station you can buy a certificate that says you're a tsar and call yourself whatever you like. The question is what confirms your authority.
In response, the group replied,
[Agapitova] does not deal with the protection of morals, as well as the protection of the traditional family.
The group has promised to conduct regular "raids" as well as to create a public website where anyone can leave tips on what teachers to investigate.