Mona Iraqi, the Egyptian "reporter" whose sting on an Egyptian bathhouse late last year resulted in 26 arrests on charges of debauchery, all of which were dismissed, will be facing charges of defamation alongside channel owner Tarek Nour. Additional charges include libel and publishing false news.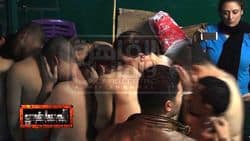 The case is being brought by Tarek Al-Awadi, who served as the lawyer for the defendants in the bathhouse case. Al-Awadi is bringing this case to court because Iraqi and channel Al-Qahera Wal-Nas, which hosts her show, refused to apologize or admit to any wrongdoing. Said Al-Awadi to Daily News Egypt:
In case that private satellite station Al-Qahera Wal-Nas (Cairo and the People) will not publish an official statement apologising for the actions of its employees, we will continue to escalate. The channel should take serious legal procedure against Iraqi, her team, and the programme director.
Preliminary hearings are scheduled for April 5th.