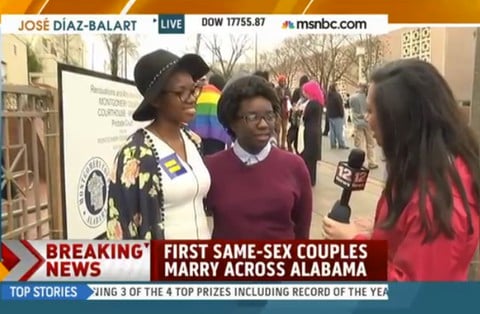 Tori Sisson and Shante Wolf, a gay couple from Tuskegee, Alabama who were the first married in Montgomery, Alabama this morning spoke with WSFA TV's Melissa Johnson about their experience.
Said Wolf:
"It's humbling. We came out here yesterday to camp out…People came by gave us donuts and chocolates. I got a poem this morning from a lady I didn't even know. So it's been pretty exciting."
Added Sisson:
"I'm ecstatic, I'm a little overwhelmed and I'm really overjoyed that it went really smoothly."
Watch, AFTER THE JUMP…
While things in Montgomery County are going smoothly, a majority of counties across the state have now either suspended the issuance of all marriage licenses or are only accepting applications. 
AL.com reports:
Probate judges have said it is the best compromise for the moment, until they determine which order to follow.
But not all probate judges are sitting on the fence. Probate courts in several counties are issuing marriage licenses to all comers, including same-sex couples. About the same number of probate judges have chosen to follow the order issued late Sunday by Chief Justice Roy Moore. In those counties, marriage licenses are still being issued for opposite-sex couples, but they will be denied for same-sex couples. […]
Other probate judges have said that they may change their policies within hours or days. Counties colored red are not issuing marriage licenses to same-sex couples. Those colored green are issuing licenses to all couples. Those shaded in yellow are not issuing any marriage licenses and those colored orange are only accepting applications, but issuing no licenses. Click on a county for more information.
Red = not issuing licenses to same-sex couples. Green = issuing licenses to all couples. Yellow = not issuing licenses to any couples. Orange = accepting applications, issuing no licenses.