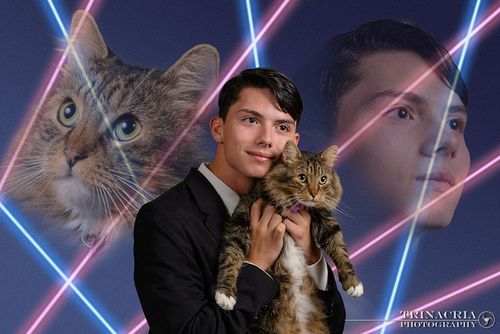 Draven Rodriguez, the New York teen who made headlines and garnered the support of celebrities like Ellen DeGeneres and Jimmy Fallon for his campaign to get his laser cat photo in his high school yearbook, has killed himself at the age of 17.
Syracuse reports:
Rodriguez made national news last fall when he started a petition to get his unique photo featured in the yearbook as his senior portrait. The petition was a precaution, while the school did not decline the photo just yet.
"This is my pre-emptive strike just in case such a thing were to happen," Rodriguez explained in his petition. "I wanted as many backers as possible before the deadline of September 15th."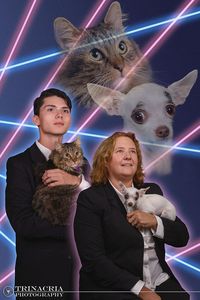 However, even after reaching more than 7,000 signatures, Rodriguez was not allowed to use the photo in the yearbook. Instead, Principal Diane Wilkinson, and her Chihuahua Vivienne, joined Rodriguez for a new laser cat yearbook photo.
Times Union adds:
Although his humor and intelligence were readily apparent, Rodriguez was more cherished by family and schoolmates for his easy facility for friendship.
"He made friends wherever he went," said Rodriguez's father, Jonathan Stewart. "He had friends all over the country — people he'd met at youth-leadership conferences, online, just around town."
The photo of Rodriguez, his cat Mr. Bigglesworth, Principal Wilkinson, and Vivienne will reportedly get its own page in the yearbook with a message about adopting pets through shelters and rescue organizations. 
Watch Jimmy Fallon's opening monologue a few months back mentioning Rodriguez, AFTER THE JUMP…