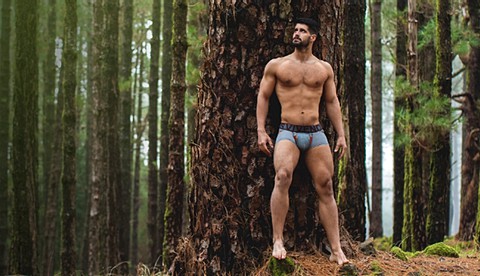 Men's fashion brand Modus Vivendi takes us on a trip to Tenerife, the largest and most populous of the seven, volcanically-formed Canary Islands of Spain, in the new campaign for its Bear Line of underwear, starring model Fran Otero and photographed by Adrian C. Martin.

The campaign was shot in the stunning Esperanza forest, often foggy because it is up a mountain close to the cloud zone where the moisture creates the lush green moss so prominent in the photos and video. Tenerife also boasts the third tallest volcano in the world (measured from the base on the ocean floor), Mount Teide, which is protected as a National Park and World Heritage Site. It most recently erupted in 1909 and remains active.
The Canary Islands are also a popular destination for gay and lesbian European tourists, who head there for the beautiful beaches. With this kind of natural beauty to be found, who can blame them.
Check out the full campaign video featuring Fran Otero, AFTER THE JUMP…