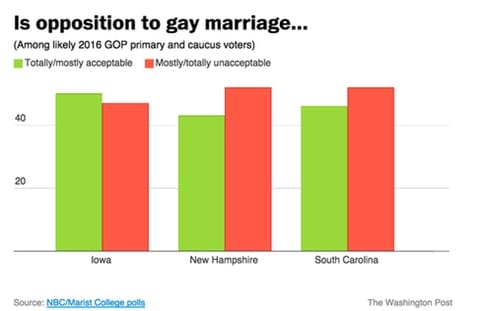 A new poll from NBC News and Marist College suggests that support for same-sex marriage among Republicans may be growing at such a rate as to make opposition to marriage equality a political deal-breaker for the majority of GOP primary voters in 2016. 
As The Washington Post reports, opposition to same-sex marriage is as unpalatable as support for Common Core, immigration reform, a belief in man-made climate change and support for raising taxes on the wealthy: 
The polls, in fact, show that about half of likely GOP caucus and primary voters in Iowa, New Hampshire and South Carolina said they find opposition to gay marriage either "mostly" or "totally" unacceptable in a candidate. Fifty-two percent of likely Republican primary voters in New Hampshire and South Carolina said opposing gay marriage is either mostly or totally unacceptable, while 47 percent of likely Iowa caucus voters agree.
By comparison, 63 percent of Iowa voters say belief in man-made climate change (and fighting it) is unacceptable, 56 percent of New Hampshire voters say raising taxes on the wealthy is a non-starter, and 52 percent of South Carolina voters say support for comprehensive immigration reform that includes a path to citizenship is a deal-breaker on one level or another.
Voters in all three states find a candidate who supports gay marriage to be about as amenable as one who doesn't toe the party line on any of these issues.
And while the numbers are surprising, they make some sense. A Pew poll conducted in March 2014 showed 39 percent of Republicans and Republican leaners supported gay marriage. Add the passage of time and the fact that non-Republicans can vote in New Hampshire and South Carolina, and you've got a potentially less anti-gay marriage electorate come next year.
So will we see a GOP candidate in 2016 endorse marriage equality? "Probably not," according to The Post. "While there are some supporters of immigration reform (see: Bush and Marco Rubio) and Common Core (Bush) in the group, the name of the game is alienating as few people as possible."
The report also speculates on whether the wording of the question in the polls — asking about opposition to same-sex marriage instead of about support for it — may have skewed the results. The other question that remains unanswered is how much a candidate's views on same-sex marriage will motivate and influence Republicans who support marriage equality versus those those who oppose it: "We're guessing it's still more of a voting issue for those who oppose gay marriage than those who support it — at least on the GOP side."