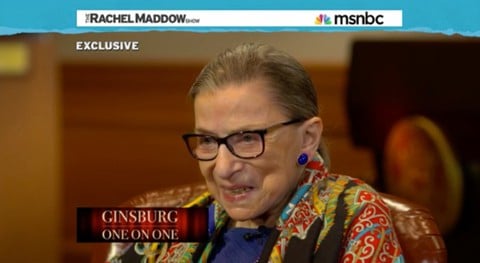 Supreme Court Justice Ruth Bader Ginsburg sat down with The Rachel Maddow Show for a rare interview in which she discussed her bouts with cancer, getting a stent in her heart, and when she might decide to retire.
"I will step down when I feel I can no longer do the job full steam."
Ginsburg also talks about what the nation's unfinished business is when it comes to gender equality, abortion, President Obama, Citizens United, Chief Justice Roberts, Hobby Lobby, the court's rulings on women's rights, segregation, the voting rights act, Congress, and what she'd like to be remembered for.
She also offers her opinion on people who are so obsessed with her that they are getting Ruth Bader Ginsburg tattoos.
Watch the full interview, AFTER THE JUMP…