Today we're thrilled to be launching a new TowleREAD author reading series on Towleroad, in which LGBT authors (and other authors, if they have relevant books) read excerpts from their works.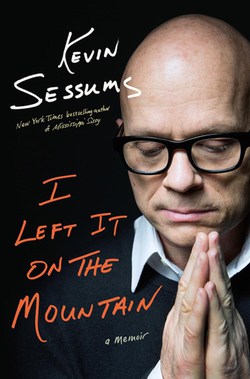 Today's reading comes from Kevin Sessums, veteran celebrity interviewer, Towleroad's one-time theatre critic, and now editor of the SF-based national gay glossy FourTwoNine magazine.
I Left It On The Mountain, Sessums' follow-up to his memoir Mississippi Sissy, arrives on bookshelves this week. We asked him to introduce it to you.
Sessums tells Towleroad:
My memoir I Left It on the Mountain is being published today, February 24. It is about a lot of things – among them the depths of my meth addiction, my spiritual journey toward recovery, my Mississippi childhood, and my life in the fast lane as a name-dropping Vanity Fair writer. I was told by my publisher St. Martin's Press not to read the advance reader reviews on Amazon, but I'm an addict and couldn't resist the quick fix of a quick click to see what people were saying about the book in the weeks leading up to its publication date. Most of them were very kind. But one person had some problems with it. She wrote: "The graphic sex scenes were just too off-putting to me. He could have told about them without all the details. I didn't like how he described a whore on the bed the exact same way he described himself as a boy getting spanked. It just felt too intentionally mind-messing. And once I'm picturing him having coke inserted up his bottom hole it's kind of hard for me to go back to caring about his spiritual journey." It was the first time I'd read anything that made me want to read my own book.
When Towleroad asked me to do a podcast reading from the book I thought perhaps I'd read a section about Madonna or Courtney Love or Hugh Jackman or Daniel Radcliffe. There's a whole chapter devoted to my meeting Radcliffe for a lunch at the Algonquin Hotel after my being up all night on a sex and drugs binge. I thought about reading an excerpt that included some of that sex, some of that drug use, some of that debauchery.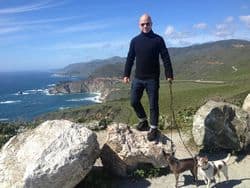 But then I thought better of it. I'll let you read about that if you decide to read the book yourself. I decided to focus more on the heart of the book which is my relationship with my dogs Archie and Teddy, two terrier/Chihuahua mixes, for this book is finally a spiritual memoir not just one about carnality. One of the reasons I have such dogs in my life as an adult is that when I was a child my father decided to have as our family pets two Chihuahuas named Chico and Coco with whom I desperately bonded in my innate neediness. They, suddenly being the outsiders in my family, made me feel like less of an outsider myself.
This reading is from the chapter titled "The Dogged."
Listen to the reading, AFTER THE JUMP…
You can find I Left It On The Mountain at Amazon or Books a Million or your local bookstore.
If you are an author, LGBT or otherwise, with a current or upcoming book you think might be a great feature for our TowleREAD series, please shoot us an email at [email protected] with TowleREAD in the title of the email.